The Implausible
Cause let's face it. Even if anyone got me anything from this list, I'd have to return it on account of it's just way too much. But this doesn't stop me from putting this up just to show how materialistic and greedy I am.

1. Nikkor R2D2 Home Entertainment System


"It can project images up to 80in wide in 800x600 pixel resolution. It has an in-built DVD/CD/MP3 player, FM radio, speakers, outputs for hooking up to surround sound systems, a USB slot, memory card reader and – if that's not enough – a pop-out iPod dock." ...Gizmodo

So what if I don't have an iPod. I'd at least like the option to put it in, you know?


2. i-Roomba


It's a vacuum cleaner that is programmed to find dirt and suck it by its own. That means, no more lugging out big ass vacuum and stashing it away later. Also, hello, Arrested Development much?


3. A Segway

If you haven't guess by the iRoomba want, I am very very lazy. So a Segway to transport me from my house to my car or my kitchen to my living room would on the sweet side of awesome and then some.


4. Pentax 10-17mm Fish Eye lens


This is the sex.


5. Full set of Battle Royale manga


It annoys me that I still haven't finish this. So a full set would be superbly awesome.


6. Sony Ericsson Xperia X1


unfunfunf


7. Canon Selphy ES1


It makes printing pictures a breeze. Just stick your SD card in, select and print. I totally want one of course.



8. Suzuki Vitara (discontinued model)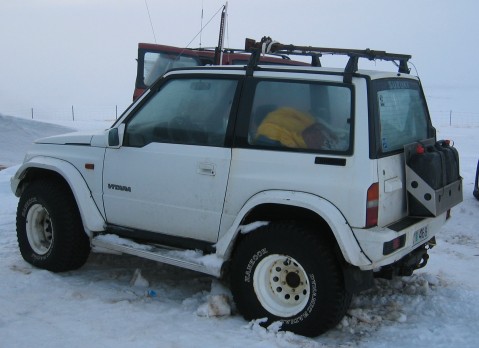 I've been in love with this car since way back I was in high school. They don't make this model anymore so if there ever was a perfect time to buy one for me, it'd be now. I'd drive it, squeal, and then return it to you.


9. Watchmen: The Graphic Novel I love you, Chaz.


Or any other graphic novels by Alan Moore would be good too.


10. The boys of Friday Night Lights


Zach Gilford, Taylor Kitsch and Kyle Chandler. Please and thank you. (No guarantee that they will be returned in the same form they were first received in)



10. Bodhi Safety Pin Bag


Retail price: US$ 748


11. Icon Watch


Retail price: US$ 82


12. Issey Miyake for Seiko


Retail price: US$ ???


13. Frank Gehry Postive/Negative Watch for Fossil


Unfortunately this watch was from 2 years ago. You can't find it on anywhere but eBay anymore, much to my chagrin. And even then they always go for so damn much!


14. Miu Miu Nappa Bag


Retail price: US$ 1385


15. Proenza Schouler PS1 Bag
Retail price: Over US$4000



16.Triple Backseam Charnos tights


Discontinued. Much to my displeasure.



17. These posters


The photoshopped Arrested Development/Star Wars poster. I find it absolutely hilarious, and hey, check out that segway in the bottom right corner!



This isn't even a poster. I have it labelled as a 'poster card'. Whatever that means. This one poster card makes up for the shitty "yippies!" we all had to sit through with Jake Lloyd.




Oh, Gary Oldman. Perhaps revealing the true extent of my fondness for Harry Potter, I really do want this poster. If not cause it stems from my favourite book in the series, Harry Potter and the Prisoner of Azkaban, is because I may or may not have come up with the most brilliant viral marketing plan for one of my products at work. Whatever the reason you choose to believe, I want it.



I care a bit too much movie poster designs more so than the average pop culture enthusiast, I think. This is one I want to own and pet.



I am a big fan of Polish movie posters. What are they? In a bid to prevent America culture from spilling into their streets in the 1980s, the communist government made it a rule that movies from America had to have a Polish-made poster. Hence, Polish movie posters. This one is for Star Wars. It was made by Michal Ksiazek.

/true movie geekiness.



This is the Polish poster for The Birds by Alfred Hitchcock. 'Ptaki' translates to 'death'. Created by Bronislaw Zelek.



Polish poster for To Sir, With Love. Created by Maria Ihnatowicz.



Oh, come on. I even went to watch that stupid ass X-Files 2! I at least deserve a poster for sitting through that steaming pile of shit.

And for you, dear reader, I want Blogger to create a Livejournal type LJ-cut feature so that posts like this that you could care less about you can be scrolled over easier. Don't say I never think about you. I'm nice that way.